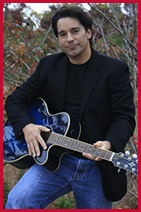 Philadelphia area performer Carmen Magro has graciously let us use his song "America" as our official theme song. Magro and his band had performed live at this past May's Sound Off 2 on City Island and they will be performing again at Sound Off for Veteran's Day on November 11th at Champion's Sports Bar in Highspire.
Carmen played many instruments as a child never being formally trained. His mother gave him a drum set for his 14th birthday and he was on his way to stage performances. After losing his father when he was ten, the passing of his mother when he was 19 really hit him hard and influenced the rest of his life. Remembering his mother's influence to do so, he began writing music at the piano and has not stopped since. He continues to learn, multiply instruments, and shares the stage on piano and guitar as he fronts his band singing his original music. His band is loyal and committed to Carmen and his music as they never ask for anything and go anywhere with him. Currently, they are a 7-piece band including guitars, drums, keys and piano, saxophone and a multitude of hand instruments that come alive on stage.
Carmen's Supporting Band:
Chuck Scarpello – Bass Guitar
Mark Burkert – Guitar
Rob DeSimone – Guitar
Dave Murphy – Drums
Steve Sauer – Keys / Synth / Supporting Vocals
Only recently did Carmen begin studio recording after finding a veteran producer, Arty Skye in New York City. This resulted in Carmen's debut EP titled Come Alive which he self-published in hopes of opening some doors to get his music and band exposure and opportunities to share his music with the world. Carmen distributes his music under his own label "Carmen Rose Records" named after his father and mother who he thanks for leaving him with a humble nature he never ignores or takes for granted. The EP includes the songs "Come Alive", "Take Me Back", "Looking at Me", "Our World", "Christmas to Me", and "America", which was shot as a video, produced and directed by Anthony Werhun with 23rd Letter Films. Several of the songs are now being aired on internet radio stations in the US and England.