by Ric Albano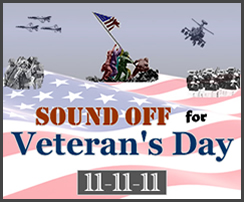 We had an incredible time on Friday, November 11th at Champion's in Highspire for the Wounded Warrior Benefit Concert. Absolutely everyone involved was pleasant, upbeat, and helpful and the show could not have gone smoother.
When my wife Karyn and I tallied up the all the donations including the door cover, raffle, cash contributions, CD sales by participating musicians, and business and online monetary donations we found that this single event had brought in $1,103. Well, we instantly shook the sofa to scrape up an additional eight bucks to bring that total to $1,111, which fits perfectly with the unique date of this event. We did have some expenses which worked out to be about 27% of this gross amount, still leaving a healthy amount to donate to the Wounded Warrior Project through the Sound Off for Vets charity. Beyond this, about 6 bags of clothes were donated for the YWCA Homeless Vets Clothing Drive.
This event could not have been a success without the incredible time and effort of so many people, who I'd like to thank here.
---
First and foremost, thank you to all the Veterans past and present who do more for us as American citizens than any other group.
---
Thanks to the musical artists who all put on incredible and entertaining performances:
The Group "Meeka" – Romeeka Gayhart, Terry Gayhart, Drew Washington, Wyatt Latimer, and the keyboard player whose name we did not get (sorry, but thank you)
Carmen Magro's Band – Carmen Magro, Chuck Scarpello, Mark Burkert, Rob DiSimone, Dave Murphy, and Steve Sauer
Hot Wing Jones – Steve Montressor, Andy Shemeta, Anthony Pepoli, and Corey Woodcock
I 'd like to add a special thanks to the guys in Hot Wing Jones, who were the first to arrive, the last to leave, and donated equipment for all the artists to use.
Also, thanks to DJ Kai who provided incredible video during the musical performances as well as entertainment between sets.
---
Thank you to those who offered support for the event:
Chris Hicks, sound man from Voyager Music
Tim Dyer, videographer who shot about 5 hours of footage and enlisted our event in the international One Day on Earth program so we will be seen all over the world
Chris Nelson, founder of Sound Off for Vets who elicited donations for our raffle
Karyn Albano, my lovely wife who organized and operated the raffle
Rebecca Smith-Witmer, volunteer who helped at the door
---
Thank you to all the people and businesses that donated merchandise, gift certificates, advertising, and/or money to the cause:
Champions Sports Bar
United Water
Fredricksburg Eagle Hotel
Antique Auto Museum
Civil War Museum
Farmer's Hope Inn
Hollywood Casino
The Porch Restaurant
Adventure Sports
LB Smith Ford-Lincoln
Ultimate Lube and Wash
Classic Rock Review
DAMES of PA
Susquehanna Entertainment
Jim Hammond
Deborah Delgado
Kathi Guliano
Plus, there were many more good people who made anonymous cash donations at the event.
---
Thanks to everyone at Champion's who were incredibly helpful and pleasant through this whole process starting with Jason Naugle and Virginia Taylor (whose birthday was also on 11/11) and all the servers, staff, and security personnel.
---
Last but not least, thank you to everyone who showed up last night, added to the celebratory atmosphere, and were very generous in donating to our cause.
If you were unable to make this event but would like to make a donation, you can still do so by pressing either of the "Donate" buttons on top or to the left of this page.
Ric Albano
Organizer, Sound Off for Veteran's Day