NOTE: This article was originally published on June 25, 2010 at DAMES of PA.
It was a spectacular summer's day on City Island, Harrisburg with a festive atmosphere of food, drink, music, and relaxation. The first (annual) Sound Off for Vets benefit concert was held on June 17, 2010. The event was organized by Chris Nelson, sponsored by The Harrisburg Riverboat Society and DAMES of Pa. It was scheduled to coincide with the Harrisburg arrival of The PA Hero Walkers who walked 342 miles from Philadelphia to Pittsburgh to raise money for The Wounded Warriors Project, which also received proceeds from this event.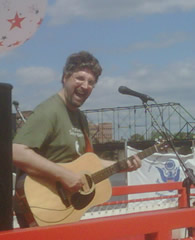 The event kicked off at 3pm with singer, songwriter and primary orginizer of the event, Chris Nelson. He performed a nice mix of original songs plus covers such as R.E.M.'s "Driver 8" and "Pink Houses" by John Cougar Mellencamp. Nelson, the organizer and primary engine behind this event, was introduced by DJ Nipsey from the rock station 105.7 "The X".
Chris Nelson Video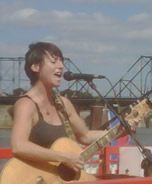 Nipsey also stuck around to introduce the talented Mycenea Worley, who performed some interesting arrangements of cover songs such as "Stop Draggin' My Heart Around" by Stevie Nicks and "In Your Eyes" by Peter Gabriel, but really stole the show with her powerful originals "Low" and "100 Days".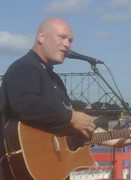 At 5:00, the third and final acoustic act, Brian Xander performed a unique acoustic set that included a wide range of material from Green Day to AC/DC to some country-rock standards. His original tune about American servicemen "Standing Tall" was a definite highlight and totally gelled with the theme of this event.
The first band to perform was the New York trio Fools On Sunday, featuring 13-year-old prodigy "Johnny Lightning" on lead vocals and drums. The band performed some interesting, punked-out of versions of rock standards, such as "Summertime Blues", "I Wanna Hold Your Hand", and "Free Bird" as well as a few originals.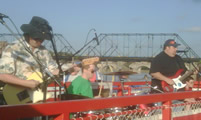 Another trio, Animal Society from the Harrisburg area, followed with a solid set of mostly original tunes from their upcoming album Any Atomic Lies. These included the standouts "Say No More", "California", and "The Lion" – a song actually written about a wounded warrior. They also adapted some unique covers such as Widespread Panic's "One Arm Steve" and the Zeppelin rarity "We're Gonna Groove".
The impressive Shift Seven, performed next. The three-member band has a well crafted and finely tuned sound that could be a hybrid of ZZ-Top, Lynard Skynard, and Aerosmith, or as they put it, "Acid Fried Funkabilly Blues Rock". They performed a crisp, tight set made up of selections from their latest studio project 1.5 Days.
Odd Man In? capped off the night with their original set of rock/jam tunes plus some covers that ranged from Sublime to Pink Floyd as darkness descended upon the boat and the 10:00 city curfew quickly approached.
In between sets, many of the donated items and gift baskets were raffled off to attendees who contributed to the cause by purchasing raffle tickets. These prizes included a basket of wine from the Finger Lakes region of New York, passes to Hersheypark and The Civil War Museum, an autographed baseball bat, several gift certificates to local businesses, and much more.
All in all, Sound Off for Vets 2010 was a success. The music was quality and entertaining, the weather was spectacular, and the setting was unique. The event had some inherent uphill challenges such as going head-to-head with Mechanicsburg's Jubilee Day and Game 7 of the NBA Finals, not to mention it was the first of it's kind so there was no habitual pattern of attendance to count on. But Nelson feels this was a good start and a learning experience and already has some big plans for doing it again in 2011.
~